Weißkirchen - The gateway to Oberursel

Weisskirchen - The gateway to Oberursel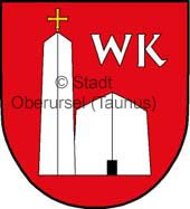 Weisskirchen lies on the town border to Frankfurt and is therefore the gateway to Oberursel. Surrounded by agricultural fields and orchards, Weisskirchen is characterized by its quality of life.
In particular, the connection to public transport (subway, suburban railway and city bus) as well as the central location make the suburb a sought-after residential area.
But also the diverse and traditional association life contributes to the attractiveness of Weisskirchen and promotes the cohesion and sense of community of the population. The Catholic parish of St. Crutzen and the Protestant Reconciliation parish, which maintain ecumenical contacts, also contribute to this.
Particularly noteworthy is the child and youth care in the municipal and church institutions as well as the youth work in the associations and the youth club. This makes Weisskirchen particularly attractive for young families.
But also with innovative ideas (for example the weekly market which takes place regularly) the quality of life in Weisskirchen is constantly improved.
Information on the history of Weisskirchen.