Stierstadt - The pearl in the Taunus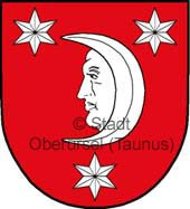 Brief history of the suburb of Stierstadt


Stierstadt is first mentioned at the same time as Oberursel - 26 April 791.
Like Bommersheim, it is one of the Franconian settlements. Stierstadt had always been part of the Oberursel parish. Since the construction of its own chapel, whose sturdy tower shows the coats of arms of the 'Lords of Eppstein' and the year 1348, the priest and his chaplain came to Stierstadt from Oberursel on the "pastor's path" every 14 days for Sunday mass. The church was renovated in 1670, and later twice pulled down and reconstructed, in 1821 and 1970. Each time, however, the tower with its crooked helm roof and weather vane showing a star and the year 1721 remained intact.
As with the neighbouring villages, Stierstadt suffered plundering, billeting, high cost and sacking (1622) during the Thirty Years War. Several times the inhabitants sought refuge in the fortified town of Oberursel. Reconstruction after the war progressed only slowly and was interrupted by further war miseries and plundering. It was not until 1814 that these uncertain times finally came to an end.
The number of inhabitants of Stierstadt had been reduced from 47 households at the
beginning of the Thirty Years War to 19 families and 8 widows in 1648. In 1714 there were 250 people and in 1869 precisely 171 families (approximately 500 people) living in the village. This number rose in 1885 to 788 people, touching the 1000 mark around the turn of the century.
In 1946/47 the glass industry from the Sudetenland settled on the site of the Schopflocher bronze and sheet metal factory on Zimmersmühlenweg which had been built in 1891 and burnt down in 1941. During the past few years this area has grown into a relatively large industrial estate as many new companies have settled here.
In 1971 Stierstadt was twinned with the Dutch community of Ursem and a Dutch committee was called into being. Since then there has been a continuing active exchange between the inhabitants of both places, especially in the cultural and sporting fields.
Under the threat of compulsory incorporation of the community into Oberursel (Taunus) within the framework of the land reform of the state of Hessen, Stierstadt decided to begin incorporation negotiations with the town of Oberursel (Taunus). The border amendment contract came into effect on 01.04.1972.