Bommersheim - "Hesse's largest horse village"

Bommersheim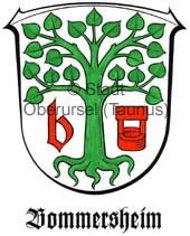 Since its incorporation into the town of Oberursel in 1929, Bommersheim has preserved a special life of its own in many areas through to the present day.
There is no other area in Oberursel where real-life agriculture can be experienced as intensively as in Bommersheim. There are still many farms here, the existence of which is largely guaranteed today by the fact that a large number of horse-lovers know that their animals are kept there safely and well cared for. Hesse's "Reit- und Fahrverein Sankt Georg Oberursel-Bommersheim", which has the largest number of members, has made a significant contribution to this and also earned the nickname "Hesse's largest horse village" for the Bommersheim area.
In general, Bommersheim is characterised by a lively club life, which enables every citizen to spend their leisure time in a meaningful way.
On the religious side, there are also ecumenical contacts between the Roman Catholic parish of St. Aureus and Justina, the Protestant Kreuzkirchen parish and the Old Catholic parish of St. Francis.
All in all, the citizens of Bommersheim are known for their distinct sense of community. Problems or tasks are usually tackled and solved together. This has been experienced intensively in recent times with the extension of the fire brigade equipment house, where citizens from different associations have contributed significantly to the completion of a successful building with their own help.
Last but not least, the favourable traffic connections of the underground line U 3 and the suburban railway line S 5 as well as the A 661 to Frankfurt am Main ensure that Bommersheim is an extremely sought-after residential area in the Vordertaunus.
Brief history of the suburb of Bommersheim

Bommersheim. The place-name, which first appeared in 792 as Botmarsheim, indicates a Franconian settlement (approx. 6th century). The remains of a castle surrounded by water from the 13th century were discovered in 1988/89 in archaeological excavations. It had been destroyed in 1382.
From 1736 to 1738 a baroque parish church was erected on the site of the castle chapel with the high altar figures by the sculptor Martin Volk, which are well worth seeing.
During the Thirty Years War, in 1622 several buildings were sacked and destroyed; plundering was also rife during this time. Before the war there were 69 houses, even as late as 1666 there were still 16 burnt-out sites to be seen!
In 1843 Bommersheim had 634 inhabitants. This number rose to 1663 in 1929 although several wars had also taken their toll.
Projects to merge the "rural community of Bommersheim" with the town of Oberursel were rejected by Bommersheim in 1913/14 and in 1920/21, but the permanent lack of water eventually forced the community to begin negotiations with Oberursel in 1922. The incorporation contract of 18.05.1929 was finally drawn up stipulating the merging of the two communities on 01.10.1929.