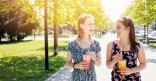 You can find details of retailers, restaurants and more in Oberursel in the online portal of the town's marketing website. This highlights what makes Oberursel so personal: the many owner-run shops, restaurants, cafés and bars.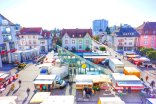 Oberursel's weekly markets stand for freshness, quality and proximity to production. The markets make an important contribution to the quality of life and local provisions in the town of Oberursel.
Film zum Bürgerempfang 2018
Der Film wurde zum Bürgerempfang 2018 von der Oberurseler Firma FEDA Film erstellt. Der Eine Welt Verein Oberursel e.V. erhielt im Rahmen des Bürgerempfangs 2018 die Bürgermedaille der Stadt Oberursel (Taunus). 
Er zeigt einige Beispiele von Oberurseler Initiativen, die sich für den Globalen Süden engagieren. Unter dem Motto "Wir haben nur diese Eine Welt".